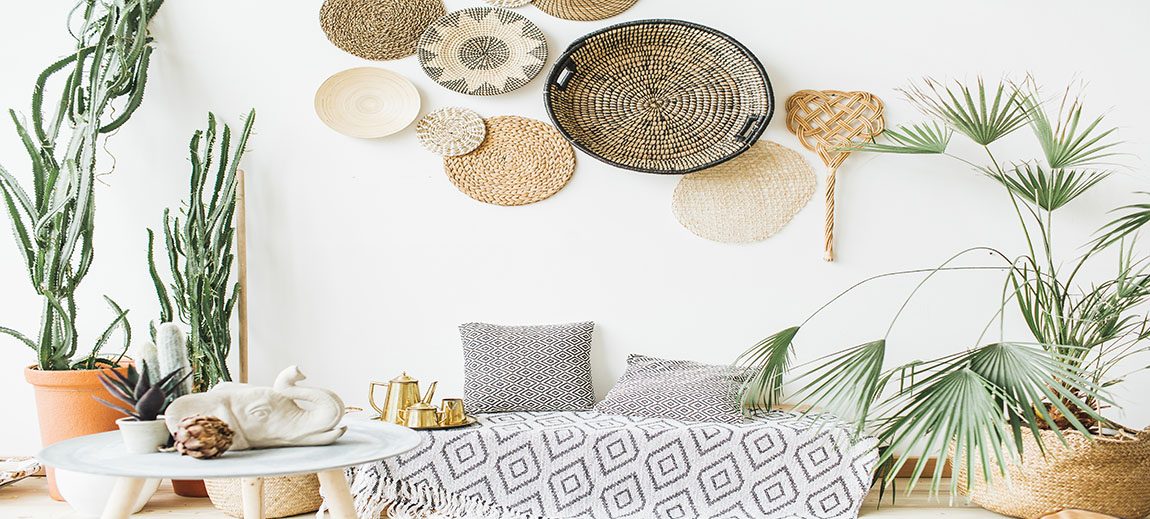 Is there a wall in your rental home that needs some major help? A plain wall can be hard to look at but with a little bit of a creative push, you can easily dress up your boring wall and turn it into a one-of-a-kind work of art.
Wall decoration is key here. We'll guide you on the ways to dress up your blank wall – and we'll even throw in some wall décor ideas that won't make you sacrifice your security deposit. Here are 8 ways to dress up the boring walls in your rental house:
Hang a Collage
Think of a blank wall as a canvas. Hanging a collage is an excellent way to dress up the wall and bring the design of your rental together. Items of varying heights, shapes, and widths can actually enhance the collage visualization, creating an aesthetically pleasing design and a real conversation starter!
Below are some of our favorite ways to make a wall collage:
Vintage window and picture frames
Art (painting, photography, and décor accessories)
Portraits
Mirrors
Plates in various designs and colors
Removable Wallpaper
Removable wallpaper is an absolute thing and great for dressing up walls! Wallpaper is coming back in style thanks to its modern designs. Use wallpaper to create a focal point in the room. This area is great for hanging additional wall decorations and frames that complement the design.
This wallpaper typically comes in squares with an adhesive backing. You'll want to start from the top and work your way down to the baseboards or chair rail while smoothing out air bubbles as you go along. Removing the wallpaper is quite simple. All you need to do is lift off a corner piece and pull.
Inspirational Quotes
Hanging your favorite quote up on the wall can turn the room into an uplifting area of the home. There are many ways to add inspirational quotes or words to a wall, including decals and signs. You could try and make them yourself, buy something already made, or even have your quotes customized.
Put these over your fireplace, couch, or bed – wherever you like, really!
Minimalist Bookshelves
A minimalist bookshelf adds an air of sophistication and style to an ordinary wall. Whether it's an adhered shelving unit or a traditional bookcase, look for one with a sleek design to proudly display your home accessories, book collection, photos, and more!
Your shelf will tell a story since it's filled with items that are dearest to you. What do you want it to say?
Tapestries and Rugs
Tapestries and rugs can really liven up a less-than-pleasing wall. Hanging tapestries and rugs are useful as well because they muffle noise, providing you with a soundproof home. The one you select should be a reflection of your individual style, which will help tie the whole room together.
Use Velcro strips to fasten lighter tapestries to the wall. Larger, heavier tapestries and rugs will likely require a curtain rod attached to the wall.
Ladder Shelves
Ladder shelves come in many different styles, from modern to rustic-chic. They provide a place where you can showcase your personal possessions, including photos, trinkets, and more. You can prop up the ladder shelf on pretty much any wall to dress it up.
This wall decoration technique is ideal for renters. Since the shelf rests on the wall, it doesn't require any need for drilling. Pretty sweet when you have a security deposit to think about.
Plants
Incorporating some greenery into your walls can really make a statement. Using smaller plants, such as succulents, will add tranquility to your space. Vertical gardens are great for sprucing up a boring wall, just be sure to buy animal-safe plants if you're a pet parent.
Decorative Tape
There are literally so many cool designs you can make on your walls with decorative tape. This tape is called Washi tape and comes in an assortment of colors and designs. It's a great solution for livening up a wall.
Use it above your desk, headboard, or to create a visual on an unused wall. The possibilities you can create with Washi tape are endless. When you're ready to move, simply peel it off. It just takes a little creative ingenuity to dress up a boring wall in your rental home.
No matter what wall in the house you need to update to give it a fresh look, use these ideas to make a statement piece in your home! Happy decorating!

Author: Lauren Ing
https://www.forrent.com/blog/apt_life/eight_ways_to_dress_up_boring_walls/